PLASTIC BROKEN CHAIRS, JUXTAPOSED.
LAGOS BIENNIAL 2019, NIGERIA
This project is an ongoing conversation between Angolan artists Sandra Poulson and Raul Jorge Gourgel.
8+1+1
Wind responsive installation, 2018

8+1 is a reflection on group dynamics and the influence of external bodies in internal dynamics, considering cooperation, conflicts and humanity. It references the Angolan civil war (1975-2002) and works as a case study for nation building in a post colonial world.
It operates as a space for discussion about the physical, social and political interactions among bodies willing to challenge dominant structures and narratives.
It also explores the potentialities of their interactions - the group existing as a body encapsulating various individuals.



SHOWER WITH JUG AND BOWL,2019
Vídeo (9:59sec) (Subtitles on the video are from 'RESPONSIVE TEXT PIECE 2', 2019)

The video 'Shower with Jug and Bowl' is set in Luanda/Angola, and reconstructs a typical scene of personal hygiene in Angola. The film was recorded in January 2019, operating as a land for discussion about ' Now allowed political conversations', as well as being a symbolic retrospective of the 42 years of independence of the country and a commemorative gesture for the inauguration of a new president in 38 years.
Within the scene there are a number of household symbolic items which, one could argue, most Angolans recognize and most likely own.
The bucket, bowl and jug appear here as a reminder of a reality that almost horizontally affects the population. Across classes people are forced to resort to the bucket shower and bucket as a storage and means to carry water from local public taps for all households needs.


PLASTIC BROKEN CHAIRS, JUXTAPOSED, 2019
Inkjet photographs

This series of photographs operate as a land for discussion about the sociocultural and economic value of activities of informal nature within the city. Whilst posing questions about the sometimes not obvious disparities between various layers of a particularly complex society.
It touches on the relationship between different modes of informality, such as economies, building techniques, re-appropriation of land by merchants and the exchange of informal currencies. As well as disentangles lack as a possible driving factor for such activities.
Most of the photographs were taken in Chicala, a neighborhood in Luanda that is being gradually demolished as part of a regeneration project. As a consequence new businesses are emerging and re-occupying the land. Most of the women in the photographs are self-employed, and run businesses in the area.

Shades of Noir, Hélio Bruno Buite, Sandra Poulson (Mother), Jaime Poulson, Henda Teixeira, Yúri Teixeira, Dalva Barros, Raul Feio, Denise Pinheiro, Lemba Cardoso, Ima Feio, Januário Jano, Pés Descalços Colectivo, Moetaz Fathalla, Mehak Vieira, Aisha Richards, Kerian Magloire, Angie Illman, Alex Thomson, Laura Baker, Isabel Albiol Estrada.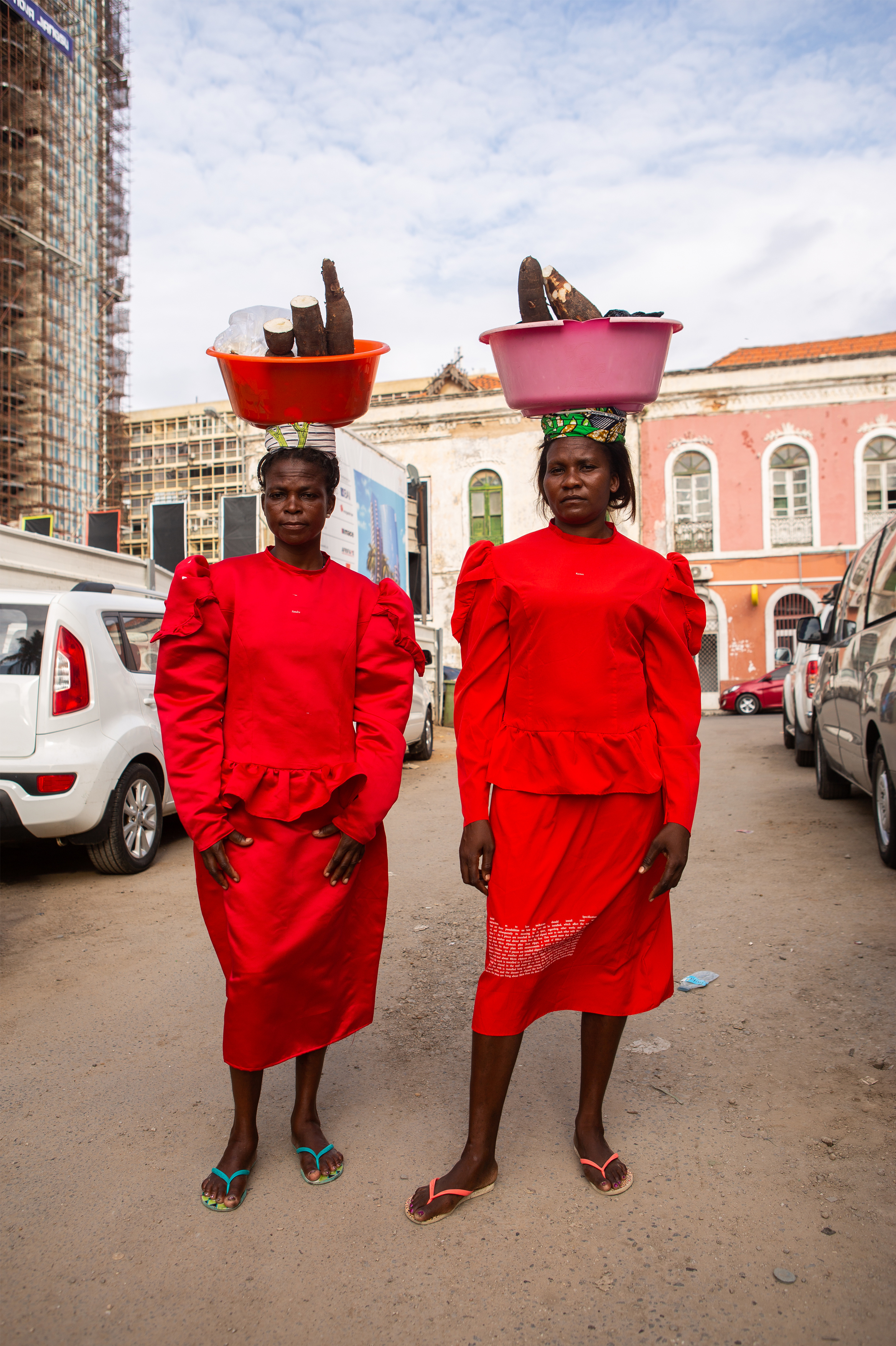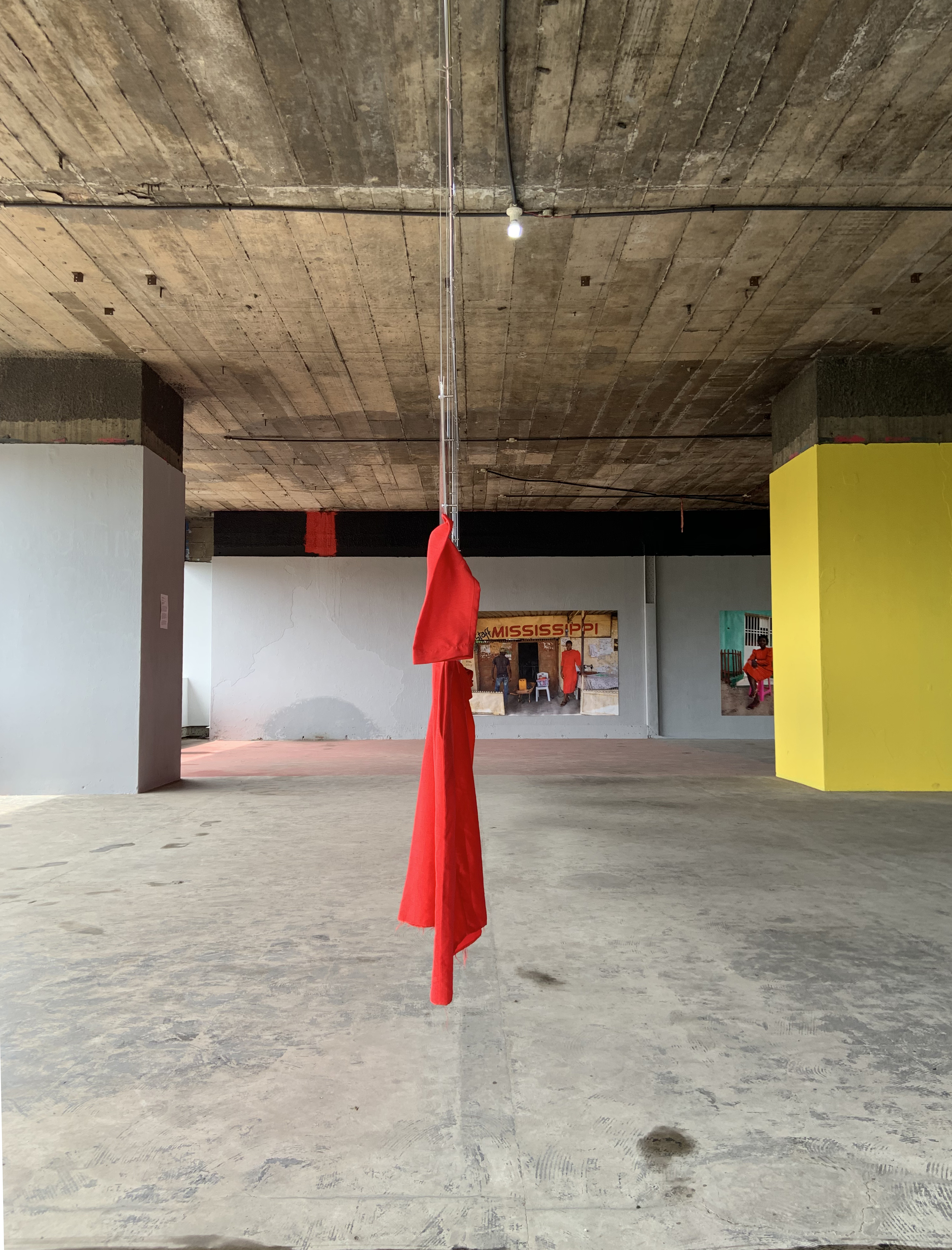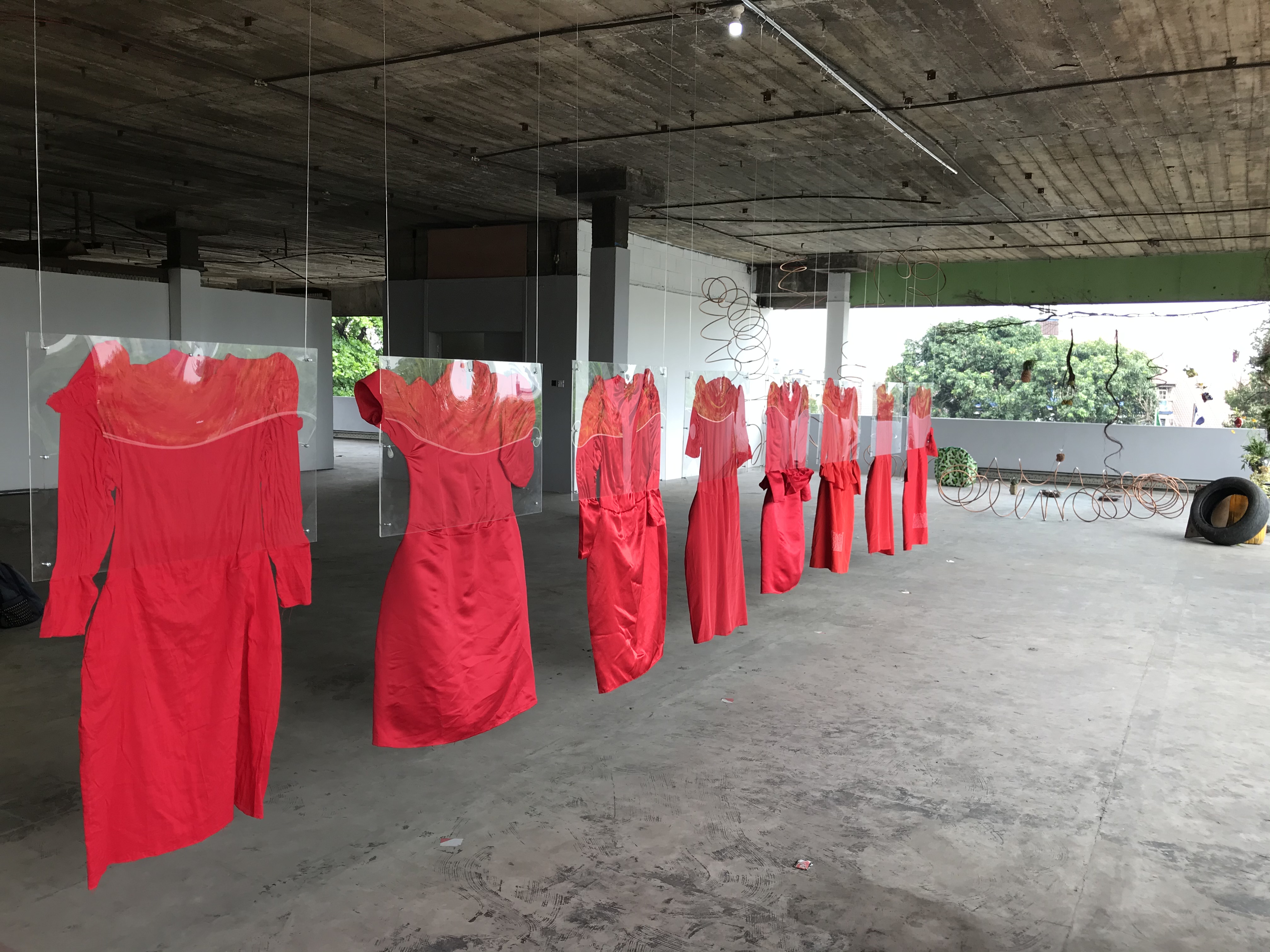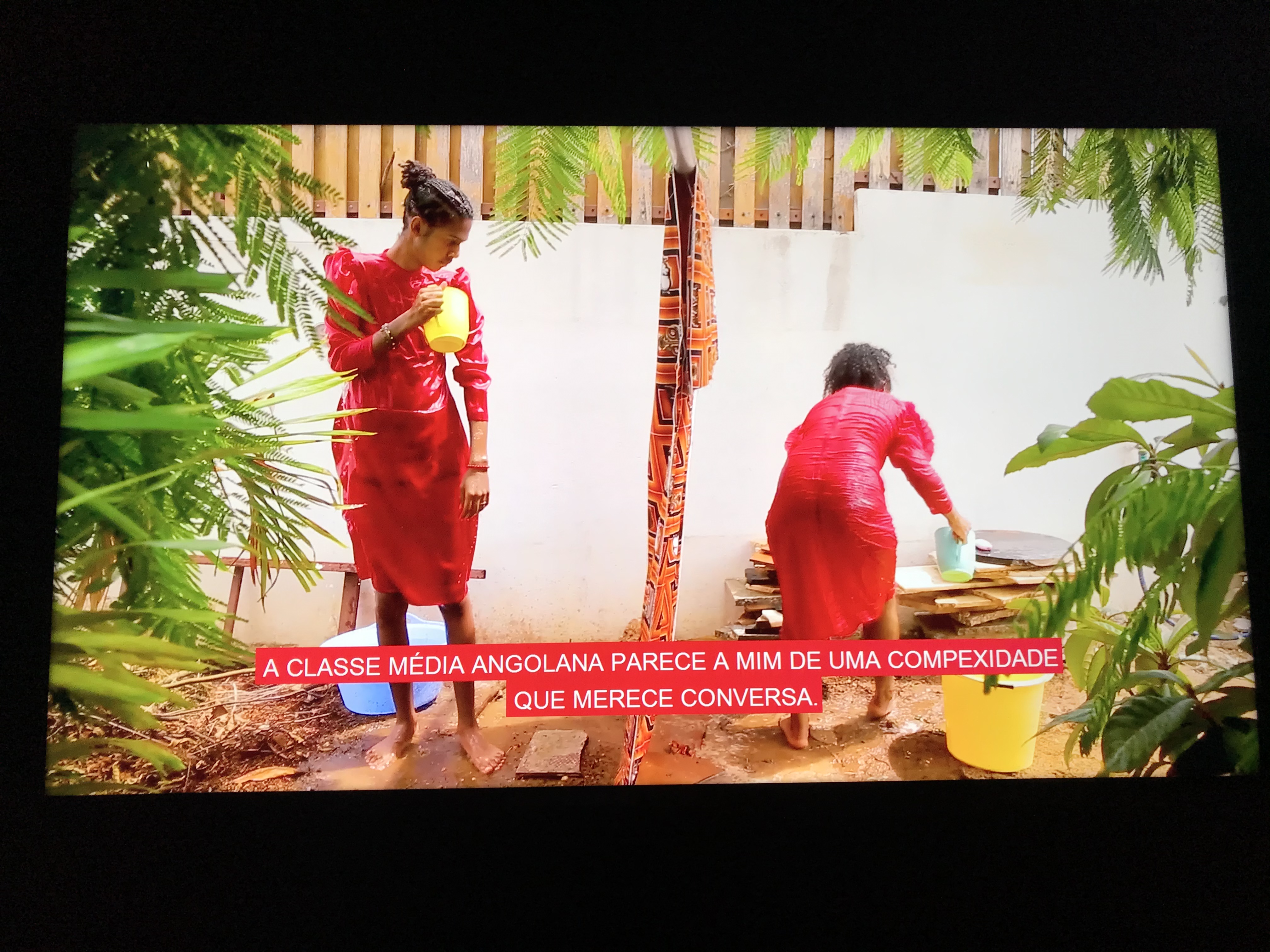 Still from 'Shower with Jug and Bowl', 2019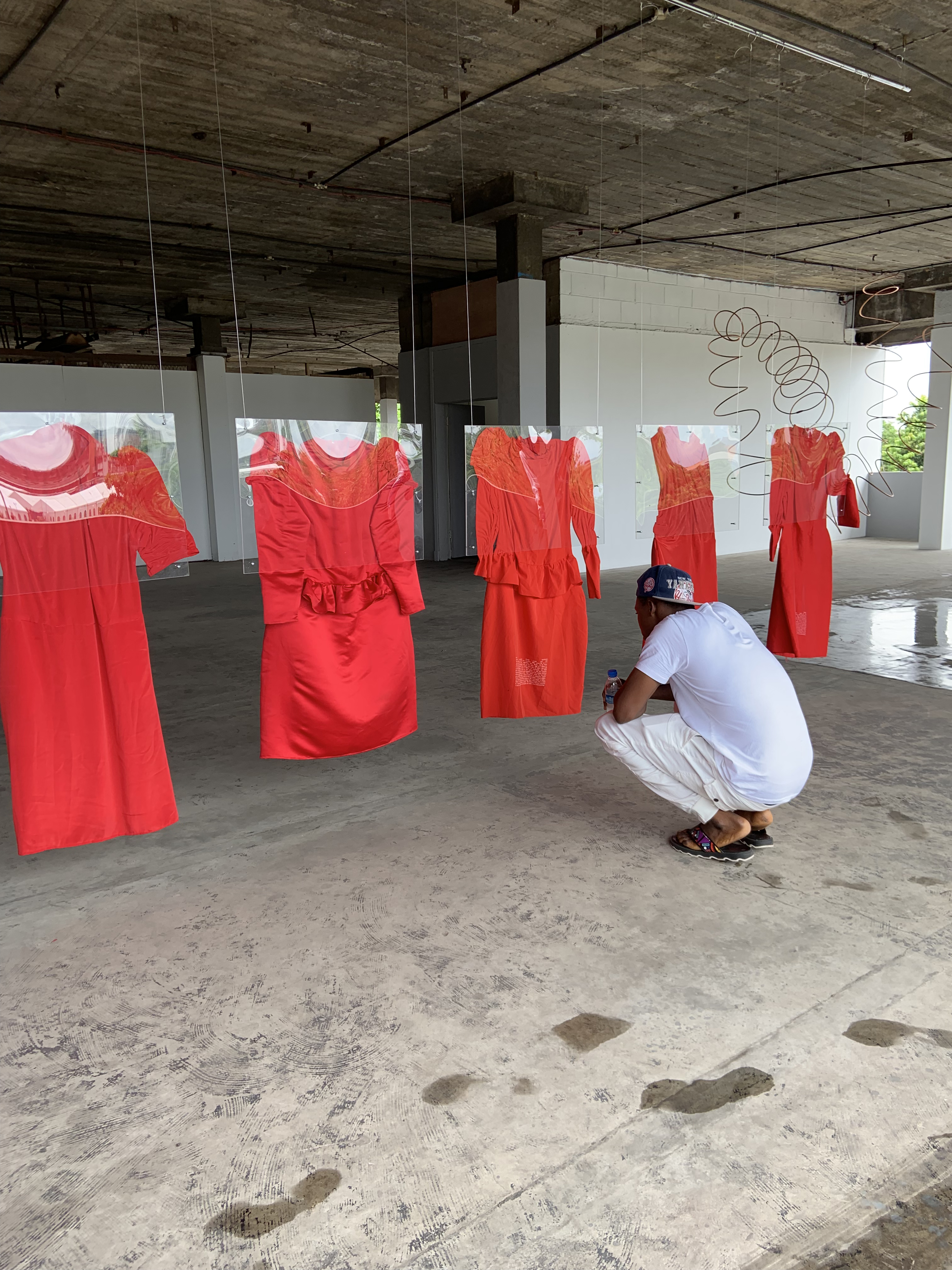 Still from SHOWER WITH JUG AND BOWL, 2019
Vídeo (9:59sec)